About Daycare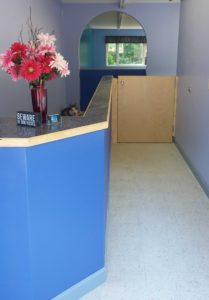 Our daycare program is designed to provide the highest level of both safety and fun for your dog.  We have climate controlled indoor play rooms and direct access to outdoor play areas where the dogs can have fun and enjoy themselves throughout the day just being dogs.
And, to make this more like home, we are happy to have items brought in to make your dog more comfortable such as special blankets or bed for resting time. We are also happy to administer medication during the stay.
Reservations are required for all dogs coming to daycare.
In looking out for the best interests of our best friends, the following Policies and Requirements apply to all dogs attending daycare.
Getting Started
Reservations are required for all dogs coming to daycare, but it is easy to get started!
Create an account on Gingr. Gingr is our pet management software giving you access to a convenient dashboard where you can make reservations, view calendars and reports, and ensure you have the access to the information you need about your pet.
Set up our pup's first day! We do the temperament evaluation on the first day of daycare and let you know how things go at the end of the day. We feel this gives your pup time to adjust and settle in a bit before we can determine if they are going to enjoy daycare.
Download our Joining our Pack Information Sheet and submit a copy of your dog's current vaccination records. Gingr registration must be completed and vaccination records must be on file prior to your dog's first day of daycare.
Please email us at info@koolk9nh.com or call us at (603) 384-DOGS if you have any questions!
Here is information you will need to know prior to attending our daycare:
Your dog must be current on age appropriate vaccines (Rabies, Parvo/Distemper, and Bordetella (Kennel Cough)).

All dogs must be flea, tick, and parasite free.

We are not able to accept any dogs that show any type of aggression towards people or other dogs.
We reserve the right to dismiss a dog from the daycare program for any reason.  Our goal is to be open and discuss any issues that may arise while your dog is attending daycare so you are always aware if there are concerns about your dog.
The following is a list of our requirements:
Leashed when entering and exiting our facility
At least 10-weeks old, and up-to-date on age appropriate vaccines
Spayed or neutered (any dog 6 months or older)
Friendly with people
Friendly with dogs
All older dogs current on following vaccines:

Rabies
Parvo/Distemper
Bordetella (Kennel Cough)
If your dog cannot come to daycare on its scheduled day, we ask that you please contact us to cancel 24 hours before.   Messages can be left on our voicemail 24 hours a day or you can email us on our contact form here. If we do not receive a cancellation call or email, we will be forced to charge you for the reserved slot.